Heavy downpours and thunderstorms have caused severe flash flooding in parts of London.
There were reports of vehicles becoming stranded as water quickly rose to block dozens of roads and affected underground lines.
The fire brigade said it had taken about 300 calls – mostly about flooded basements or roads – in the space of a few hours on Sunday.
Officials have advised against travelling in the hazardous conditions.
An amber thunderstorm warning is in place for much of south-east England, with 75 to 100mm (3in to 4in) of rainfall forecast in some areas.
'Canal, not a road'
A further 14 less severe flood alerts have also been issued, covering most of the capital and parts of surrounding counties.
Resident Chris Date tweeted a photo of a bus in Bakers Arms, Walthamstow, saying the flood water was "above the kerb".
"It's impossible to walk on the pavement. To get on that bus the water came up to my shins. This is a canal, not a road," he said.
Cyclist Eddie Elliott, 28, told the Press Association agency he had passed the area near Queenstown Road station to find the road "totally shut down".
"Having been born and raised in London, I have never seen anything quite like it," he said.
Mr Elliott said the flooding was the worst he had experienced in the city, and described seeing "buses stood broken down in the water".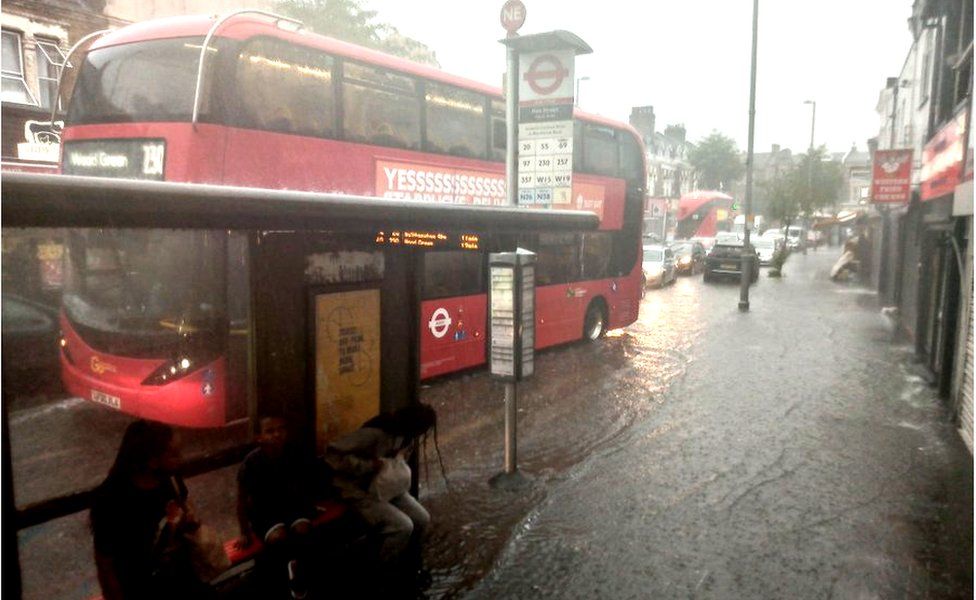 Many roads in the capital are closed because of the flooding, including the Blackwall Tunnel, the A12 and parts of the North Circular. There are long delays on other routes.
A tweet from the Metropolitan Police Special Constabulary warned drivers they should not attempt to drive through floodwater if they find their route blocked.
The Environment Agency said its staff were actively monitoring the situation and were prepared to respond if required.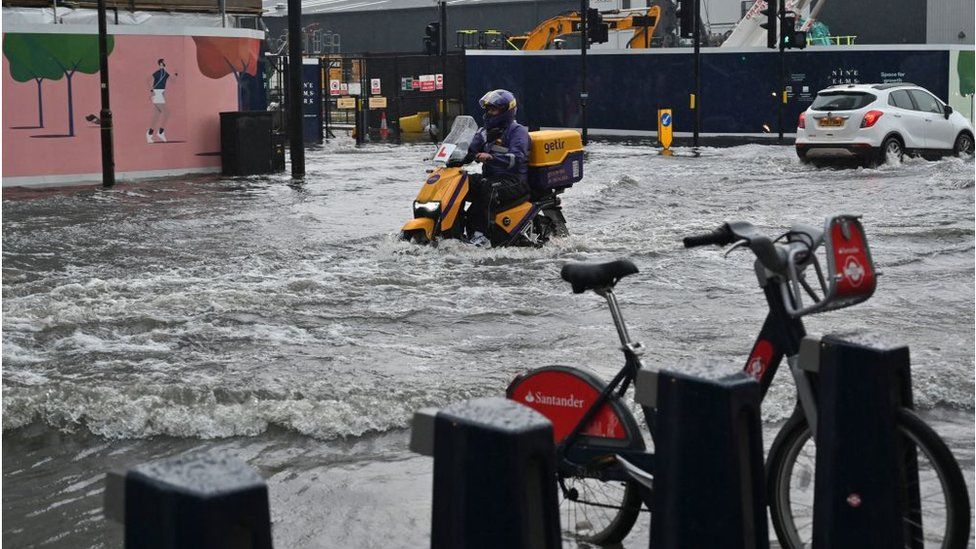 Met Office meteorologist Steven Keates said parts of the south between south Suffolk and the Isle of Wight could be deluged by 100mm of rain in just a few hours on Sunday evening.
He predicted "pretty lively showers" from Norfolk to Bournemouth, with "torrential downpours, thunder and lightning and potentially some hailstones settling in the south."
Mr Keates said the storms were being caused by a "convergence" of air currents as warmth in the earth's surface from the recent heatwave rose into cooler air in the atmosphere.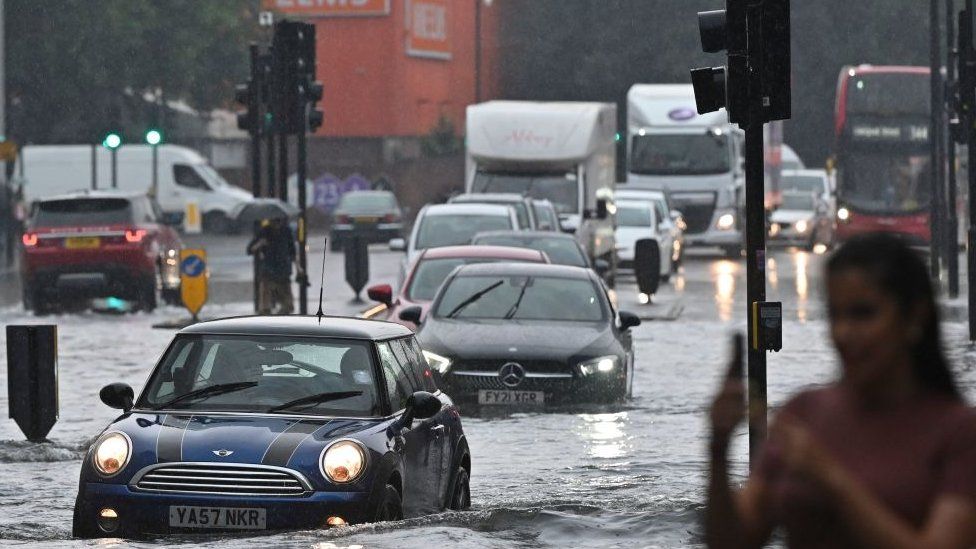 Days of extreme heat last week have given way to cooler temperatures and unsettled, stormy weather in places.
Temperatures are set to rise again from Monday, with London expected to hit 26C.